Last Post: 03/09/2014 12:17:03 AM
Board Marks: 2
Posts Today: 0
Board Views Today: 1
OCTUS ENERGY
LOW FLOAT 12.5M
Stop Flushing Money Down the Drain.
If you own or manage an apartment complex, senior care facility or hotel, your water and energy costs are a big – and ever-escalating – deal. Every day that goes by, you and your tenants are flushing money down the drain and missing an opportunity to improve your properties and keep more money in your pockets.
The good news: You can reverse the cycle and start improving your bottom line today.
Octus has worked with dozens of property management companies in the last year to improve more than 10,000 living spaces in the Sacramento and San Francisco Bay areas.
?
Water-saving improvements.
As demand for water increases and supply is constrained, many area water bills are increasing at an alarming rate. Octus leverages water utility incentives and
?
rebates to implement low-to-no-cost water conservation upgrades — including high-efficiency toilet, showerhead and aerator replacement, and installation of smart irrigation controls — to bring these costs back under control.
?
Energy-saving improvements.

Octus and its partners have performed numerous apartment community renovations that have slashed energy consumption at these locations by 20-40%. These energy savings produce tangible financial benefits property owners and tenants alike, generating millions of dollars of savings annually.
?
Renewable energy solutions

. Common areas and community laundry facilities offer a unique opportunity for property owners to harness renewable energy sources to produce positive returns over the long term. Falling prices for these technologies – coupled with generous state-wide rebate programs – make solar photovoltaic, solar thermal, and even wind power more attractive every day.
Local. Renewable. Power.
Today, local governments purchase energy – generated outside their community via non-renewable sources – from their utility company. Utility bills are paid every month, with no local environmental or economic benefit.
We can do better
. By supporting and purchasing power from a community-owned solar or wind "garden," local governments can:
?
Create jobs
. Respected local contractors build the community's garden, supporting the workforce and generating local employment opportunities.
?
?
Reduce the community's environmental impact

. California cities are looking for ways to comply with statewide greenhouse gas reduction requirements. Local renewable sources are a great way to boost compliance with AB32 while also enhancing local independence and creating more healthy, livable communities.
?
Minimize uncertainty

. Since 2000, the average price of electricity purchased from one of California's investor-owned utilities has increased by 50%, with some years producing substantially higher cost jumps than others. Uncertainty in fundamental energy costs strains local budgets, but this strain can be avoided if the jurisdiction agrees to purchase power at set rates in the future.
?
Stimulate the local economy

. Today, when a local government pays its utility bills, the money spent leaves the community and lines the pockets of utility management teams and investors. If we tweak the model so that community members own the energy source, then dollars spent on electricity stay in our community. When these dollars stay close to home, they multiply – up to 3.5 times, according to many economists! – and contribute to local prosperity.
Keeping Costs in Check.
Identifying efficiency and renewable projects is easy – but paying for them can be tough. At Octus, we leverage all available project funding and financing sources to minimize your up-front costs and make the project pencil out over the long term.
Our areas of specialty include:
?
Utility rebate programs

. We help multi-family and other commercial and institutional customers capture utility rebates for energy- and water-efficient building improvements. In some cases, utility rebates can cover up to 100% of the project cost.
?
PACE financing

. Our place in the front lines of this innovative financing mechanism positions us well to integrate PACE into projects as it rolls out throughout California in the coming months and years.
Vision + Mission
Octus operates based on a simple principle: The least expensive form of energy is efficiency. We believe efficiency is not about compromise — it's about doing the same (or more) with less. Fundamentally, we are driven by the sustainable economics of our work: Energy- and water-efficiency investments generate superior risk-adjusted returns (Octus project IRRs are typically 30-80%) while improving the sustainability of places and people we impact.
Octus's vision is to be among the most innovative and results-oriented smart resources company in the world. Our success is measured by the energy, water and money we save for our clients, and the sustainability — long-term financial and environmental impact — of our work.
Octus's mission is to significantly reduce utility expenses and increase cash flow – immediately and perpetually – for building owners, managers and occupants.
When we reduce energy and water consumption, we generate a triple bottom-line return for our clients:
?
Profit
: Utility costs are reduced immediately and perpetually; NOI, building values, occupancy, and rental rates are bolstered.
?
People
: As building environments improve, employee, occupant and customer morale, satisfaction and productivity increase.
?
Planet
: Significant reductions in the resource impact of facilities are achieved.
?
Senior Management
?
Octus is managed by a team of proven, entrepreneurial executives, and is supported by a world-class group of strategic partners and industry and professional advisors.
?
Chris Soderquist, Chief Executive Officer & Director

Mr. Soderquist has 20 years experience founding, managing, advising, capitalizing and selling companies in the clean tech, high tech, professional services and private equity industries. Most

?

recently, he co-founded and served as Managing Director of Crescendo, a luxury real estate investment firm that was acquired in 2008 by Abercrombie & Kent. He also created and sold a marketing strategy firm that he grew to 130 clients, and founded and directed several software companies. Previously Mr. Soderquist managed two business incubators, Technology Development Center and Venture Lab, and served on the board of directors of waste-to-energy company Sierra Energy, the Sacramento Entrepreneurship Academy (of which he was president for three years), the Sacramento Area Regional Technology Alliance, and UC Davis Connect. He currently is a Director of the University of California, Davis Graduate School of Management Alumni Association Board, and a member of the Comstock's Magazine Editorial Board. He earned a BS from Cal Poly, San Luis Obispo, and an MBA from the University of California, Davis.

?

George Ecker, Chief Financial Officer and Director

Mr. Ecker is the President and Director of Nova Mobility Systems, a company specializing in the design and manufacture of rugged handheld mobile computers. He has more than 25 years of entrepreneurial and management experience in international and domestic ventures. Previously, Mr. Ecker was the President and Managing Director of Channel Financial Group, a financial services company providing corporate consulting and strategic services to international private equity managers. He holds a Bachelor of Science degree in Finance, with honors, from the University of the State of New York.

?

 

John Walter, Chief Operating Officer

Mr. Walter has more than 25 years experience creating and leading high technology initiatives. Most recently, he was a consultant to Itron and to an India-based software company, and a Vice President with Isaacson, Miller, an executive search firm. Previously, Mr. Walter was Managing Partner with The MarketTech Group, where he led high-level market research engagements for international medical device clients. His prior experience includes work with Lawrence Livermore National Laboratory and Chevron, where he was a Reservoir and Production Engineer. Mr. Walter earned BS, MS and Degree of Engineer (Engineering Management) degrees from Stanford University, and an MBA from the University of California, Davis. He is a board member at the Sacramento Entrepreneurship Academy.

?

Mananya Chansanchai, Vice President, Energy Solutions

Ms. Chansanchai was a PG&E Energy Efficiency Fellow and Emerging Venture Analyst for the UC Davis Energy Efficiency Center (EEC) where she focused on the development and commercialization of energy efficient technologies. Her work through the EEC included market sizing of lighting technologies for K-12 schools in conjunction with the California Lighting Technology Center (CLTC), background research of HVAC opportunities for educational facilities in conjunction with the Western

?

Cooling Efficiency Center (WCEC), and developing a life cycle cost calculator for energy efficiency projects. Previously she worked at McKesson Corporation and Citibank. She earned an MBA from UC Davis and a B.A. from UC Santa Cruz.

?

 

George Condon, Development Manager, Smart Energy Projects

Mr. Condon has 23 years of commercial real estate experience. Prior to joining Octus, he developed more than 3.1 million square feet of industrial and office real estate for Panattoni Development Company, one of the largest commercial real estate development firms in the U.S. Prior to joining Panattoni, Mr. Condon managed more than 2.4 million square feet of office, industrial and R&D properties for clients such as Prudential, Equitable, Kaiser Permanente, and Wells Fargo. He earned a BS from Santa Clara University and an MBA from the University of California, Davis.

?

 

Joe Livaich, Director of PACE Financing

Mr. Livaich joined our team in January 2011 and is focused primarily on developing commercial PACE programs for cities and counties throughout California. Previously, he worked on Sustainable Special Projects for the office of Council Member Kevin McCarty in the City of Sacramento. The AB 811 energy efficiency financing district he developed expanded into a regional partnership comprised of both Sacramento and Yolo counties, along with all cities in each. Mr. Livaich also served as one of just five individuals hand-picked by Sacramento Mayor Kevin Johnson to help formulate and implement the Mayor's 2010 Greenwise Sacramento initiative. Prior to serving in the public sphere, Mr. Livaich worked at Mintier Harnish Planning Consultancy, where he specialized in land use planning, policy, economics and housing.

?

 

Amy Black, Vice President, Marketing

Ms. Black has nine years of client service, sales, marketing and project management experience. Prior to joining Octus, she was a Vice President of Marsh Risk & Insurance Services. As Proposal Project Manager, Ms. Black led teams of technical and creative colleagues responsible for designing solutions to risk issues faced by current and prospective clients. Previously, Ms. Black advised clients in the technology, real estate, financial services and construction industries on strategies for mitigating and transferring risk. Ms. Black earned a BBA from the University of Wisconsin, Madison and an MBA from the University of California, Davis.

OCTI Security Details
Share Structure

Market Value1

$685,936

 

a/o Jul 13, 2012

 

Shares Outstanding

 

45,729,072

 

a/o Nov 19, 2010

 

Float

 

12,537,072

 

a/o Mar 15, 2010

 

Authorized Shares

 

100,000,000

 

a/o Mar 15, 2010

 

Par Value

 

No Par Value

 
Octus Inc (OCTI) Stock Message Board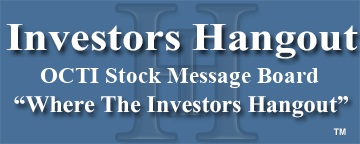 Login
to continue reading.