Last Post: 06/06/2013 8:49:23 PM
Board Marks: 1
Posts Today: 0
Board Views Today: 1
Copper King Mining is U.S. based mining and mining services company fully capable as an owner/operator of a wide array of mining projects in precious, base and strategic minerals and metals.

In addition to our history as an owner/operator, Copper King provides mining services for projects large and small. We provide experience, technical knowledge, and innovative solutions for all types of mining operations. Whether the required expertise is in exploration, feasibility, mine planning, production enhancement, financing or sustainability, Copper King Mining brings exceptional expertise, knowledge, experience and real world practicality to every assignment.
The Milford Mineral Belt is a geologic setting very typical of porphyry copper mega districts. It lies within an east trending belt of altered quartz monzonite, quartz monzonite porphyry, granodiorite, as well as altered andesites, diorites, and other Porphyry copper mineralization.
The two most prominent geologic features are the Rocky Range quartz monzonite and the OK Granodiorite in the Beaver Lake district. The Rocky Range Quartz monzonite has intruded Permian sediments and in the more favorable horizons formed copper magnetite skarns of unusually high copper grade. In places these skarns exceed 5% copper with substantial gold and silver credits, along with moly and tungsten.
The Rocky Range quartz monzonite has also intruded the OK granodiorite. Within the OK granodiorite there are at least four breccia pipes. The most notable is the OK mine which is also a small porphyry copper deposit with abundant chalcopyrite, Bornite, moly, gold and silver. The Rocky quartz monzonite, in places contains abundant native copper. At least one drill hole several miles from the known reserves contains over 600 consecutive feet of nearly unexplained native copper as primary mineralization, fully disseminated and not fracture controlled. Mineralization is dated at Cretaceous through late Tertiary and regional controls on mineralization are thought to be deep-seated crustal structures. The area is on the edge of the late Mesozoic to Early Tertiary Sevier thrust system with the mountains comprising the hanging wall of the eastern Mineral Mountains complex.
The opportunity good to discover one or more multi billion ton porphyry copper deposits at a higher than usual average grade based upon the grade of existing and known copper reserves. To date only minimal exploration work has been done in pursuit of major porphyry copper deposits.
COPPER KING MINING CORPORATION STOCKHOLDER UPDATE
MILFORD, Utah, December 19, 2011 / -- Copper King Mining Corporation ("Copper King" or the "Company") (PINK SHEETS: CPRKQ) and Western Utah Copper Corporation ("WUCC" or collectively the "Debtors") Officers and Directors (collectively "Management") are pleased to provide an update for Copper King and WUCC creditors, stockholders, and all parties of interest (collectively the "Interest Holders") in the Copper King and WUCC bankruptcy cases. The Debtor's Management has been working on a comprehensive plan (the "Plan") to move the estate forward and reorganize the Debtors. Management will continue to develop and file the Plan in early 2012.    Management is committed to continue to pursue a successful course into 2012 and is hopeful 2012 will be a great year for all  Interest Holders.
During the bankruptcy, Management pursued and evaluated many options and opportunities to try and maximize the value of the Debtors. After much study and countless hours in consultation with mining experts it was determined that the CS Mining offer represented the best outcome for our Interest Holders. An Asset Purchase Agreement was signed and the assets of WUCC were sold to CS Mining, LLC on November 10, 2011 (the "Sale Transaction"). There are many reasons the Sale Transaction, as presented in the APA, was the most attractive outcome. Among them were the litigation with Nevada Star, and several reports from mining experts who  warned that large amounts of new  capital would be required to develop the mineral  resources of Western Utah Copper.  The WUCC assets have a high complexity and it was determined that a full evaluation of the asset potential would be costly and time consuming. Given the time constraints inherent in the bankruptcy process,  an inability to fully finance operations during bankruptcy, and the constant threat of foreclosure by secured creditors Management determined it was in the best interest of Copper King/WUCC stakeholders to accept the CS Mining offer.
Below is a brief outline of significant events and accomplishments of the past few months:
1. On October 28, 2011,   WUCC filed its Federal and State tax returns for 2008, 2009 and 2010.  As a result, WUCC is now fully compliant with its tax obligations. 2011 WUCC tax returns are expected to be filed within 6 months and Copper King consolidated tax filings will be addressed during 2012.
2. Accounting records were returned to the Debtors and historical accounting statements are being prepared. Management intends to file overdue historical quarterly and annual reports with the SEC in early 2012.
3. Management finalized the appointment of new officers in November. By unanimous consent, the following individuals were nominated and elected as officers: Lee Abbott (Chairman and President), Cherie Tilley (Executive Vice President of Mining and Operations) and Gary Gough (Executive Vice President). John Bryan will remain as Chief Executive Officer.
4. On November 10, 2011, the WUCC asset sale was completed whereby CS Mining  acquired all the assets of WUCC.   Management is very pleased that this agreement was closed successfully. We believe the sale gives the Company an opportunity to maximize the value of the Debtors for the benefit of all our Interest Holders.
The closing of the Asset Purchase Agreement is significant for several reasons:
a. It enabled the Debtors to eliminate significant amounts of debt and avoid liquidation or foreclosure.
b. The Sale Transaction has already had a very positive impact on employment in the Milford area because  mining development and operations are restarting. Many former employees of Western Utah Copper are being rehired and will participate in the economic benefits of an ongoing and well financed operation.
c. The closing of the Sale Transaction  gives the Company the chance to explore new opportunities in the mining and minerals industry. Management can now concentrate on these new opportunities  to move the Debtors forward and hopefully emerge from bankruptcy as a going and prosperous business. Management has already identified several opportunities that will be pursued as we reorganize and restructure.
Lee Abbott, Chairman and President, commented: "Our priority as Officers and Directors is to build value in Copper King for all our Interest Holders. We believe  Copper King has a promising future.  Management is highly motivated and will do all they can to assure successful outcomes. We understand the difficulty of this undertaking and the considerable investment in both time and money still required. Our newly appointed officers are determined to serve the best interests of the Interest Holders. Since the Sale Transaction has been completed, new opportunities have arisen and our team is currently working on securing the necessary DIP financing (Debtor in Possession Financing) in order to draft and execute a Plan of Reorganization favorable to the Company."
John Bryan, CEO of the Company, commented, "Management intends to reorganize the Debtors in order to maximize the value of, a) the public company, b) the 1% ownership of CS Mining, c) warrants to purchase 2% of CS Mining, d)  potential assets and benefits that can be utilized by the reorganized debtor, and e) recovery opportunities for Interest Holders through litigation. We plan to file historical financials with the SEC in order to become compliant with our reporting obligations."
The Board of Directors wishes to thank all our Shareholders and Interest Holders for their continued support.
Contact:
About Copper King and Western Utah Copper Company:
Copper King Mining Corporation (CPRKQ) is an investment company which, among other things, specializes in the acquisition, exploration, and development of mining and mineral properties. In January 2008, the company merged with Western Utah Copper Company (WUCC) its wholly owned Utah subsidiary.
Cautionary Information Regarding Forward-Looking Statement:
Forward-looking statements contained in this press release are made under the Safe Harbor Provision of the Private Securities Litigation Reform Act of 1995. Any such statements are subject to risks and uncertainties that could cause actual results to differ materially from those anticipated.


Copper King Mining Inc. (CPRK) Stock Message Board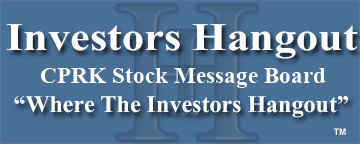 Login
to continue reading.