Last Post: 02/14/2015 3:00:59 AM
Board Marks: 0
Posts Today: 0
Board Views Today: 1
Capstone Turbine Corporation® is the world's leading producer of low-emission microturbine systems, and was first to market with commercially viable air bearing turbine technology. The company has shipped thousands of Capstone turbines to customers worldwide. These award-winning systems have logged millions of documented runtime operating hours.
Capstone is a member of the U.S. Environmental Protection Agency's Combined Heat and Power Partnership which is committed to improving the efficiency of the nation's energy infrastructure and reducing emissions of pollutants and greenhouse gases.
A UL-Certified ISO 9001:2008 and ISO 14001:2004 company, Capstone is headquartered in the Los Angeles area with sales and/or service centers in China, Mexico, Singapore, South America, the United Kingdom and the United States.
For more information, download the Capstone Corporate Brochure .
Leadership
Board of Directors
Richard Atkinson

Chief Financial Officer

Gradient Resources

John Jaggers

General Partner

Sevin Rosen Funds

Darren Jamison

President and CEO

Capstone Turbine Corporation

Noam Lotan

President & CEO, Resonate Industries, Inc

Former President & CEO

MRV Communications, Inc.

Gary Mayo

Principal, Sustainability Excellence Associates, LLC

Former Vice President Energy & Environmental Services

MGM Resorts International

Eliot Protsch

President, Wapsie Investment & Advisory, LLC

Retired Sr. Executive Vice President & Chief Operation
Officer/Chief Financial Officer, Alliant Energy Corporation

Gary Simon

President, Sigma Energy Group

Retired President and CEO, Acumentrics Corporation

Holly Van Deursen

Non-Executive Director (several companies)

Former Executive, British Petroleum

Darrell Wilk

President, Ace Label Systems

Former Vice President, ITT Corp. Electronic Components
Capstone Management Team
Darren Jamison
President and Chief Executive Officer
Mr. Jamison joined Capstone Turbine Corporation on December 18, 2006. Mr. Jamison most recently served as President and Chief Operating Officer of Northern Power Systems, Inc. At Northern Power, he more than tripled sales over a 2-year period. He broadened their offering to include product and service business and instituted a number of successful acquisitions. Prior to joining Northern, Mr. Jamison was Vice President and General Manager of Distributed Energy Solutions for Steward & Stevenson Services, Inc. from 1994 to 2003. He holds a B.A. degree in Business Administration and Finance from Seattle University.
Edward Reich
Executive Vice President and Chief Financial Officer
Effective February 11, 2008, Mr. Reich assumed the role of Executive Vice President and Chief Financial Officer of Capstone Turbine Corporation. Mr. Reich has served as the Company's Vice President, Financial Planning, and Analysis since August 2005 and has over 17 years of financial management experience. Prior to joining Capstone, he was employed by Kistler Aerospace Corporation, where he served as Corporate Controller. Mr. Reich is a Certified Public Accountant (inactive) in the State of California and is a member of Financial Executives International.
Mark Gilbreth
Executive Vice President & Chief Technology Officer
Effective as of November 10, 2008, Mark Gilbreth assumed the responsibilities of Executive Vice President of Operations and Chief Technology Officer. Mr. Gilbreth joined the Company in August 1995 and has held positions in Engineering, Program Management, and Customer Service. He served as Vice President of Engineering Technologies from February 2005 until April 2006. Mr. Gilbreth served as Executive Vice President and Chief Operating Officer from April 2006 until February 2007. During that time, he held the position of Interim President and Chief Executive Officer from July 2006 until December 2006. Mr. Gilbreth has served as Executive Vice President and Chief Technology Officer since February 2007. Mr. Gilbreth received his Bachelor degree in Computer Science from San Diego State University.
James Crouse
Executive Vice President of Sales & Marketing
Mr. Crouse joined Capstone Turbine Corporation on February 5, 2007. He leads Capstone's Sales, Marketing and Product Development efforts globally. Since joining Capstone, Mr. Crouse has helped the company bring several new clean energy and renewable microturbine products to market.
Mr. Crouse is the Chairman of the Board for the World Alliance for Decentralized Energy (WADE). WADE's membership includes more than 200 corporate leaders in the decentralized-energy industry, and national cogeneration and decentralized energy associations worldwide.
In December 2010, U.S. Secretary of Commerce Gary Locke named Mr. Crouse to a national advisory committee that will promote U.S. exports of renewable energy and energy efficient technologies. Mr. Crouse is one of 29 members on this Renewable Energy and Energy Efficiency Advisory Committee that will advise Locke on the development and implementation of programs and policies to help expand the competitiveness of the U.S. renewable energy and energy efficiency industries. In March 2011, Mr. Crouse testified in Washington, D.C., before the Subcommittee on Commerce, Manufacturing and Trade about Capstone's success as a global exporter.
Prior to joining Capstone, Mr. Crouse spent more than 20 years developing cogeneration and renewable energy projects throughout the United States.
Larry Colson
Senior Vice President of Human Resources
Larry Colson joined Capstone on June 19, 2006. Prior to joining Capstone, Mr. Colson was Vice President, Human Resources at Advanced Bionics (a Boston Scientific Company). Prior to that he was Vice President, Human Resources at Alpha Therapeutic Corporation. For over 15 years, Mr. Colson served as Vice President, Human Resources at the Data Systems Division of Litton Industries, a multi-billion dollar worldwide producer of advanced electronic systems. He was also recruited to join UNOVA, as Vice President, Human Resources for this global supplier of mobile information technologies, wireless networks for e-commerce fulfillment and industrial automation systems.
Mr. Colson holds a Masters in Business Administration from the University of Southern California.
Robert Gleason
Senior Vice President of Program Management
Mr. Gleason joined Capstone on April 6, 2011. Mr. Gleason most recently served as head of the Program Management Office (PMO) at Parker Aerospace, Parker Hannifin Corporation. Mr. Gleason spent more than 17 years in program management, systems engineering and business development in high technology international environments. He brings extensive experience in structured project management methodologies for standardization and governance of the project life cycle. Mr. Gleason holds a Bachelor of Science Degree in Aeronautical Engineering from Western Michigan University and is a certified Project Management Professional (PMP)® from the Project Management Institute.
Matt Vuolo
Vice President of Customer Service
Mr. Vuolo joined Capstone Turbine Corporation in May 2007 and assumed the role of Vice President of Customer Service in October 2011. Mr. Vuolo has held increasingly responsible management positions with Capstone including East Coast Regional Service Manager, Director of Customer Service, East Coast and Director of Global Service. Prior to joining Capstone Mr. Vuolo had over 20 years experience in field service including Regional Service Manager for Northern Power Systems, Inc. and ran a successful consulting company, Matco Services.
Mike Eggers
Director of Operations
Mr. Eggers joined Capstone in 2009 and effective in June 2011 assumed the role of Director of Operations. Mr. Eggers has over 13 years of operations management experience with leadership roles in North America and Asia. Mr. Eggers has led business transformation efforts at both Ingersoll Rand and ConAgra. These efforts focused on implementing Lean Management techniques to drive down cost and increase capacity with minimal capital expenditures. His track record of success has continued at Capstone, increasing 2010 production volume by 40%. Mike has a Bachelors of Science Degree in Industrial Management from Clemson University.
IR Contacts
Transfer Agent

Computershare
85 Challenger Road
Ridgefield Park, NJ 07660
Phone : (800)851-9677
Corporate Website : www.melloninvestor.com


Corporate Counsel
Office of Corporate Counsel
Capstone Turbine Corporation
21211 Nordhoff Street
Chatsworth, CA 91311
Waller Lansden Dortch & Davis
511 Union Street, Suite 2100,
Nashville, TN 37219
(615) 244-6380
www.wallerlaw.com
Independent Accountants
Deloitte & Touche LLP
2 California Plaza
350 South Grand Avenue Suite 200
Los Angeles, CA 90071
Capstone Turbine Corp. (CPST) Stock Message Board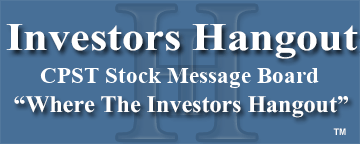 Investors Hangout is Streaming LIVE! Click Here to join us!